6 Reasons to start studying
05 Dec 2022
Whether you have just graduated year 12, raising a family or looking to make a career change, beginning study is a great way to take the next step in your career. Choosing to study is a personal decision worth weighing the pros and cons before committing. If you are on the fence, our friends at CUC Balonne have shared with us six reasons why you should start studying now:
1. Lifelong learning is an art
Life-long learning has never been more important in our evolving society. Completing study builds your knowledge and shows you are dedicated to improving yourself. A trait that employers look for!
2. Flexibility online
There have been massive changes to the higher education sector over the past few years with a large number of institutions bolstering up their online education delivery. Studying online gives you more flexibility and freedom. Gone are the days of having to relocated to study. It is easier than ever to keep working for that hard-earned cash on the side without the additional living expenses.
3. Skills, skills, skills!
Interpersonal and communication skills (written and oral)
Drive and commitment
Critical reasoning and analytical skills
Organisational cultural alignment
Work experience
The ability to work within a team to achieve outcomes
Emotional intelligence (including self-awareness, confidence, motivation)
Leadership skill
Opportunities to meet like-minded peers through extra-curricular activities
4. Completing study opens many doors
Broaden your horizons and get networking! Your study can help you connect with people who can help get you into that dream job. Learn about areas of work you weren't aware of and adjust your course accordingly.
5. Growth, intellectually and personally
Studying opens your entire world to new perspectives and new ideas. A degree teaches you to think critically and develops the ability of how to not only have an opinion but to substantiate it using evidence. Not only are you benefiting from new knowledge, studying contributes to critical thinking, and self-reflection.
6. Renewed Perspective
As part of your degree you might get the opportunity to travel to a new town for your work placement or overseas on an exchange program. You might get to meet incredible people and learn how their view of the world has been shaped completely different from yours.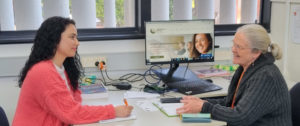 Are you ready to start your study journey?
Contact us
Have a question or would like to explore your options more? Click the 'Contact us to register' button at the top right of this page. Or you can call the Centre Manager on 0490 022 028 or email degrees@cucovensmurray.edu.au