CUC Ovens Murray has supported over 100 regional students!
23 Mar 2023
CUC Ovens Murray opened last year in Wangaratta, Mansfield and Corryong and has now supported over 100 regional students on their education journey.
Alicia Follett is studying a Masters of Professional Psychology through La Trobe University, after completing her Bachelor of Psychological Science (Hons) last year through Deakin University.  Alicia was the first student registered at CUC Ovens Murray Mansfield when it opened in February 2022 and has re-registered for 2023.  Alicia says,
"…the centre is convenient, has reliable internet and saves me time commuting to and from home".
The centre has been greatly beneficial for Alicia's studying journey.
CUC Ovens Murray is funded by the Federal Government to support higher education students studying in regional Australia. Students can be studying through any university or higher education provider to access the free services and have access to reliable fast internet, printing, dual screen computers and a quiet dedicated study space. Students can access the centre seven days a week from 7am to midnight and can use the centre when they need.
This is great for students studying a degree or course online or for on-campus students with online subjects or returning home for the weekends or breaks, or a combination of both. The centre has in-person support from learning skills advisors and staff to assist students with their questions relating to higher education.
Elliot Martyn is a busy father of three young children, he has registered at CUC Oven Murray Mansfield to enjoy
"…a quiet space to study without the distractions of home and allowing your mind to wander about hanging out a load of washing.  At the centre I can concentrate totally on studying and utilising my time effectively."
He is in his first year of a Bachelor of Education (Primary) through Swinburne Online.  Elliot is also enjoying the high-speed internet and access hours of 7am to midnight,
"which makes such a difference when life is often hectic at home".
CUC Ovens Murray Centre Manager Mark van Bergen said, "having sites in Mansfield, Corryong and Wangaratta, means that local students have local support to obtain a degree and stay connected to their community here in the Ovens Murray region, and have access to campus-like facilities and academic support".
Trevor Hammersley, a student studying an Executive MBA through Queensland University of Technology said,
"the CUC has been a godsend",
providing him online access to University and a quiet place to study in between his shifts driving the Khancoban-Corryong school bus.
"The facilities are amazing with computers, internet, scanning, and printing resources all available on site, all you need to bring is yourself and you can connect to uni's anywhere in the country," said Trevor.
Reflecting on his experience, Trevor also praised the centres support team of Celeste, Mark and the centre's newest staff member Vicki, for their amazing support and encouragement.
"Some days you just need to talk out loud about what you're learning, or need a guinea pig to test a theory out with, the team are fantastic help and critical part of study team."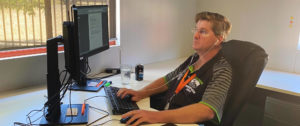 This semester alone, we have students from 17 different universities from across Australia, as well as 8 higher education providers and TAFEs. Two thirds of our students are studying part-time, with around the same number studying their course fully on-line. A quarter of our students are upskilling and completing post graduate qualifications, and most pleasing is that half our registered students are first in family to undertake a degree.
Laura Mack is studying Bachelor of Nursing through La Trobe University and registered with CUC Ovens Murray's Wangaratta service this month.
"CUC is a fantastic local opportunity to study. It is great to have access to a quiet study space, facilities and support for free that we don't normally have in the regions. The access times give me the flexibility I need when juggling study, placement and a family," said Laura.
Penny Livingston, a student studying Bachelor of Social Work at Charles Sturt University, reflecting on her experience at the Wangaratta location said,
"it's been invaluable to have people on your side with knowledge and experience to cheer you on and keep you motivated."
Whilst Melissa Jacka, a Monash University student studying a Graduate Diploma in Psychology said,
" having a facility in a central location and flexibility to use the service at the times you need is great for me. But more than that, the opportunity to connect with other students in the space makes you feel that you're not alone when you are studying online".
For more information or to register for this free service, click on the 'Contact us to register' button or call/text the Centre Manager on 0490 022 028